User Manage

System Settings

System Tools

Query and Statistics

App Management

BigAnt Console
Role Manage
The Role feature is designed to give users who belongs to a specific role the permissions to send bulletin messages to specific users or limit the file size a user is allowed to send.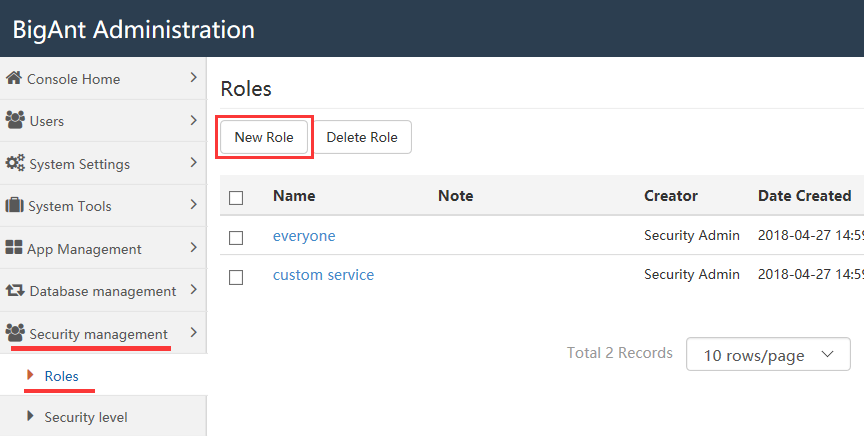 Typical role function - how to limit file sending?
This is to limit users from sending large files, to save bandwidth, or even to disallow users to send files if you set it to 1KB.Because users can be assigned to a role that suits them, users can be assigned as different authorities, such as some users can send large files, while other people cannot.
set send file size limit
Security management --> Roles --> New Role (for example: Role1-file in this case)


Permissions --> Find the option File size limit for sending
You can enter a number (for example: 5 in this case) as the maximum limit.
If the size is set to 1KB, that is to say the file can hardly be sent.

Check if the user is within the list
If you want Sara to belong to role1 (limit the size of file sent in this case), make sure she is selected. Now she is only allowed to send a file no larger than 5MB.

Typical role function - how to make a user see designated department only?
This function is to assign a unique permission to different department members, here after OU, organization unit. For instance, if you want the users in financial dept can only see members of their own dept,here is the function you need.
System Settings --> System settings First, select to enable OU permission management

Roles --> New Role Second, create a new role,role2-ou permission in this case.



Third, select the users of financial dept. Click on OU Permission --> select department(s) you want to be seen by designated users.


In this case, the Financial Dept chosen in last step can only see no organization units other than the Financial Dept.Here is the look from the client.